Bajaj Bike Current Price in Bangladesh October 203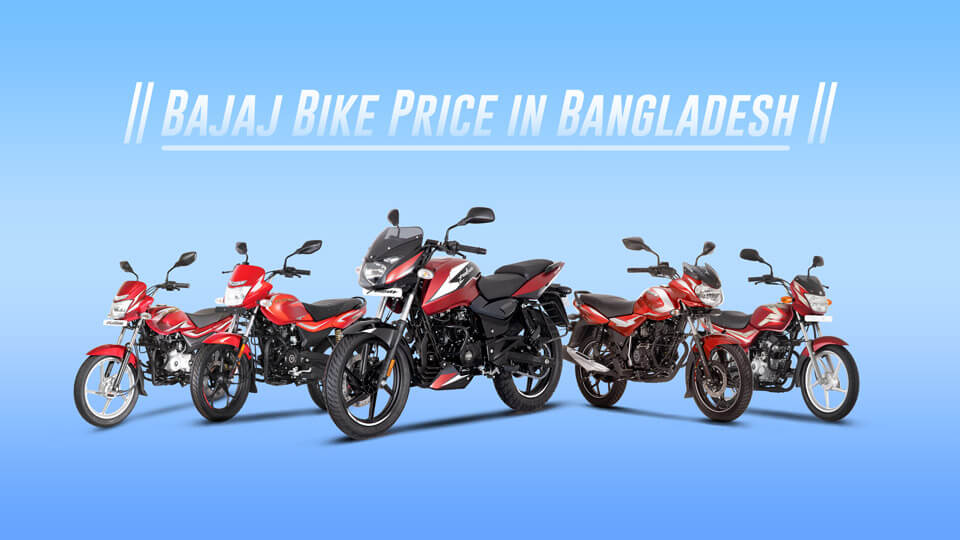 Bajaj bike price in Bangladesh in 2023 is a hot topic as more and more bikers are emerging in this country. Given the current pandemic situation, coupled with the traffic jam issues in the major cities like Dhaka, Chattogram etc., it's no wonder that bikes are rising in popularity. We know what you guys search for on the internet. That's why we created this article, so you'll have all of your bike price-related questions answered in one place. So without any further adieu, let's dive right in.
But before that, let's introduce you a bit to Bajaj Auto Limited.
Bajaj Bike Price in Bangladesh -
October 2023
So, take a look at the current product list of Bajaj here in Bangladesh. Note that Bajaj is constantly adding updated products according to your needs. So the list is not, by any sense of the word, final. But it will at least give you a rough idea of where do you want to shop in terms of pricing.
Bajaj Bike
Price in BD
Bajaj Avenger Street 160 ABS
BDT: 2,74,000

Bajaj Pulsar N160 Dual Channel ABS

BDT: 2,69,900

Bajaj Pulsar 150 Twin Disc ABS
BDT: 2,21,000
Bajaj Pulsar 150 Twin Disc
BDT: 2,17,000
Bajaj Pulsar 150 Single Disc
BDT: 1,98,500
Bajaj Discover 125 Disc
BDT:

1,60,500

Bajaj Discover 110 Disc
BDT: 1,43,600
Bajaj Platina 110H
BDT: 1,31,000
Bajaj Platina 100 ES
BDT: 1,21,000
Bajaj CT 100 ES
BDT: 1,12,000
Present Offers & Gift Items
There is currently no offer running. However, because it is very susceptible to market conditions, you'll need to check with your nearest dealer for the most up-to-date information.
EMI Facility
Now let's talk about buying the bike on credit (loan). If you're new to our financing models, great news! You have the option to buy the bike with an EMI facility from City Bank Ltd, Premier Bank Ltd and Eastern Bank Ltd, but you have to check this with your dealer.
Here are some of the key information you should know regarding the financing of your bike-
● You'll get at least 50,000 BDT as a loan
● The minimal down payment is 20% of the bike's price.
● The highest loan term is 36 months, while the smallest loan term is 6 months.
● The current interest rate is 11.99%.
You may also use the EMI calculator on Bajaj's website to organise your budget. Depending on how much credit you have on your bike, you'll receive a better picture of your finances.
Pricing, however, is always subject to vary based on market conditions. As a result, it is preferable to contact Bajaj directly before visiting a dealer.
Where to Buy From
Uttara Motors Ltd. is the main distributor of Bajaj in Bangladesh. There are many Bajaj dealers available here. As of the time of this writing, there are 312 dealers nationwide in Bangladesh. You can find a store near you using Bajaj Bangladesh's official website. You can contact them directly via your cellphone or you can also fill in a form on their website and a representative will get in touch with you.
Conclusion
As you can see, the Bajaj bike price in Bangladesh is extremely competitive. Bajaj knows their customers. They spend a fortune trying to understand their customers so that they can design bikes that please us. Bajaj has made a name for itself with this exact method. Very few companies think about their customers like Bajaj. Whether you're an old fan of Bajaj or a new one looking to shop your very first bike from Bajaj, the brand will take care of you the same. That's a promise from Bajaj.