Bajaj Motorcycles Models in Bangladesh 2020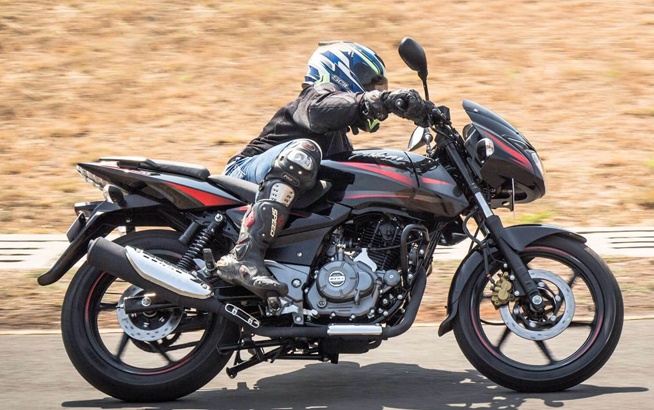 Bajaj is one of the trusted motorcycle brands in Bangladesh. They sell motorcycle in more than 70 countries in the world. As a result, they lead the market by offering a wide range of bike models under various brands. For instance, Pulsar, Platina, Discover, and CT are popular among the riders.
Every year, Bajaj tries to introduce new models or upgrade the available models. Following is the list of the Bajaj motorcycle models in Bangladesh 2020.
Pulsar
Pulsar is the ultimate sports bike that offers the best handling, class power, and torque. Bajaj offers 6 different pulsar models in Bangladesh. Those are Pulsar NS160 FI ABS, Pulsar NS160 Twin Disc ABS, Pulsar NS160 Twin Disc, Pulsar 150 Twin Disc, Pulsar 150 Neon Single Disc, and Pulsar 150 Single Disc. However, pulsar has some extraordinary features which make them stand out from the crowd. Features are-
●ABS: Anti-lock braking system stops a wheel from locking during hard braking. Using a wheel speed sensor, ABS adjusts the brake fluid's pressure, reducing the stopping distance. Only available in Pulsar NS160.
●Fuel Injection System: It adjusts the air and fuel supply in the engine to ensure the smooth and efficient performance in any condition. Only available in Pulsar NS160.
●DTSI Technology: Digital Twin Spark Ignition technology ensures optimal fuel combustion to provide enhanced performance.
●Perimeter Frame: It ensures stable and controlled riding. Additionally, the engine mounted in the frame securely. Only available in Pulsar NS160.
●Oil Cooling: This iconic feature controls the oil temperature so that the bike can operate in all conditions. Only available in Pulsar NS160.
All the Pulsar motorcycle models are fuel-efficient. It can run 38-40 kilometers per liter of oil, which unquestionably saves money. However, the maintenance cost is also minimal.
Discover
After Pulsar, Discover is a popular bike to the riders. Discover is specially made for everyday use for all kinds of roads. It has the best pickup while you are driving on busy lanes repeatedly. Bajaj offers four Discover models in Bangladesh, Discover 125 Disc, Discover 125 Drum, Discover 110 Disc, and Discover 110 Drum. Daily commuters choose Discover bike for its unbelievable mileage. However, mileage varies on models. A Discover 110 can get you 70kmpl while other models can give you 55-70kmpl. Following are some of the features you should check-
●Digital Instrument Cluster: Digital dashboard has made biker ride easier. It will give you the correct speed reading, headlamp details, battery conditions, fuel, and mileage.
●DTSI Technology: Optimal fuel combustion can give you tension-free riding every day.
●ExhausTEC: Navigating on congested lanes has never been so comfortable without the exhaust feature. It offers booted torque at low RPMs without over-burning the fuel to produce power.
●Headlamps: 12V DC double-LED DRLs headlight can give you a clear view even on a foggy night.
Platina
Bajaj Platina is considered a daily commuter bike at a low price, made to serve a comfortable ride. Two Platina models are available in the international market. However, only one model is available for Bangladeshi customers, which is Platina 100 ES LED DRL. This bike is stylish as well as covers an extraordinary mileage of 75kmpl. Other outstanding features are-
●Design- Stylish design with LED DRLs gives a new dimension. Besides, a sleek panel and black silencer with a chrome heat shield will make you confident while riding.
●Brakes- It has 110mm rugged front and rear drum brakes, which ensure safety in all riding situations.
●Headlamps- 12V DC blue-tinged headlamps provide clear visibility even in the darkest roads.
●Suspension- SNS rear suspension features a hydraulic telescopic fork that welcomes any challenging highway and offers a smooth ride.
Bajaj CT
CTs are the most cost-effective bikes from Bajaj. It is best for the person who needs to ride almost all day. Tow CT models are available in Bangladesh at a cheap cost, and both of them are generous with the mileage. CT 100 ES Alloy can serve you up to 80kmpl while CT 100 offers 75kmpl. Besides the mileage other features are-
●Alloy Wheels: Large alloy wheels make sure to roll throughout the city with balance and stability with 3" wider rear tire.
●ExhausTEC: With this feature, a biker can experience the smoothest riding on any road.
●Natural Air-Cooled Engine: 4-stroke single cylinder natural air-cooled engine supports a powerful performance, and it can increase the mileage to 89.6kmpl.
Considering the price and efficiency, Bajaj should be the first choice for a rider. It has a motorcycle for all types of bikers, from sports to daily commuters. With millions of satisfied customers in more than 70 countries, including Bangladesh, Bajaj is always there beside you to your life more meaningful.