Discover 110 Price in Bangladesh in September 2023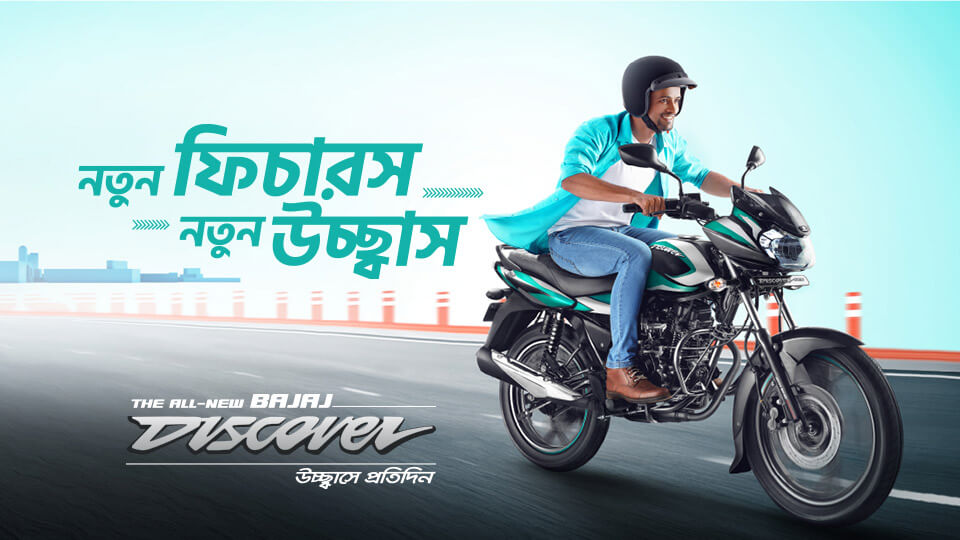 The Bajaj Discover 110 falls under the category of commuter bikes. This is a fierce segment to compete in. This may not be the case for other countries, but as long as the subcontinent is concerned where the buying capability of people is limited, budget is a huge factor. That's why the 110cc segment is saturated with many offerings from different brands. The Bajaj Discover 110 price in Bangladesh is also set in a way to compete in this very segment. This series has always been one of the most selling commuters in Bangladesh, along with the Pulsar and the Platina series.
People just don't randomly choose this bike. It's not just that the brand name of Bajaj drives the sales, either. It's rather a combination of multiple factors. We're going to look at these factors today and give you a pretty good idea of why you should go for the Bajaj Discover 110 if you're looking to shop in the 100cc segment.
Discover 110 Price In Bangladesh
Current Price
The current price of the Discover 110 in Bangladesh is 1,43,600 BDT In September 2023
Recent Changes in Current Pricing
To begin with, Bajaj has no control over the majority of these price rises. Global markets are quite turbulent right now. When you look at the current market and the prices of other brands, especially Japanese names, you will see that they have changed and are now 15% to 20% more expensive than they were previously.
Present Offers & Gift Items
There is no offer currently.
But there are dealers with their own offers. They are also providing the following gifts with discount:
● A robust, handsome certified helmet
● Dust cover
● Engine oil
● A key ring
But these are not provided by all dealers. Please check with your nearest dealer to get up to date information.
EMI Facility
Now let's talk about buying the bike on credit (loan). If you're new to our financing models, great news! You have the option to buy the bike with an EMI facility from City Bank Ltd, Premier Bank Ltd and Eastern Bank Ltd, but you have to check this with your dealer.
Here are some of the key information you should know regarding the financing of your bike-
● You'll get at least 50,000 BDT as a loan
● The minimal down payment is 20% of the bike's price.
● The highest loan term is 36 months, while the smallest loan term is 6 months.
● The current interest rate is 11.99%.
If you consider Discover 110 as an example,
● Your 20% down payment would be 27500 BDT. This means that you may purchase the discover 110 for 27,500 BDT, even though its regular price is 1,41,600 BDT.
● Your loan amount would be 1, 52,800 BDT (with a 20% down payment).
● Your EMI will be BDT 19,344 for 06 months.
● Your EMI will be BDT 10,219 for 12 months.
● Your EMI would be BDT 7,177 for 18 months.
● Your EMI will be BDT 5,657 for 24 months.
● Your EMI will be BDT 4,744 for 30 months.
● Your EMI will be BDT 4,136 for 36 months.
You may also use the EMI calculator on Bajaj's website to organise your budget. Depending on how much credit you have on your bike, you'll receive a better picture of your finances.
Pricing, however, is always subject to vary based on market conditions. As a result, it is preferable to contact Bajaj directly before visiting a dealer.
Where to Buy From
Uttara Motors Ltd. is the main distributor of Bajaj in Bangladesh. There are many Bajaj dealers available here. As of the time of this writing, there are 312 dealers nationwide in Bangladesh. You can find a store near you using Bajaj Bangladesh's official website. You can contact them directly via your cellphone or you can also fill in a form on their website and a representative will get in touch with you.
Best Usage of Discover 110
The Bajaj Discover 110 is a versatile and reliable motorcycle that can be used for a variety of purposes. Here are some of the best uses for the Bajaj Discover 110:
Commuting: TWith its fuel-efficient engine, lightweight design, and smooth handling, the Discover 110 is an excellent choice for daily commuters who want a cost-effective and efficient mode of transportation.
Leisure Riding: The Discover 110 is nimble and easy to handle, making it a great choice for leisure riding. Its comfortable seat and upright riding position make it suitable for short rides and weekend excursions.
First motorcycle: With its user-friendly design, the Discover 110 is a great choice for new riders who are looking to learn the basics of motorcycling. Its lightweight design and manageable power make it an ideal motorcycle for riders who are just starting out.
Regardless of how it is used, it is important to ensure that the DISCOVER 125 is properly maintained and ridden responsibly to ensure maximum performance and safety.
Discover 110 Key Specifications
Bike Details
Brand

: Bajaj Motors
Model

: Bajaj Discover 110
Category

: Standard Bike
CC Category

: 110 CC
Distributor in BD

: Uttara Motors Limited
Price

: 1,43,600 BDT
Availability*

: Available
Engine & Transmission
Exact Displacement

: 115.5 CC
Engine Type

: Four-stroke, Single cylinder, Two Valves, Twin Spark, SOHC (Single Overhead Camshaft) DTS-i Engine
Bore

: 50 mm
Stroke

: 58.6 mm
Max Power Output

: 8.6 PS @ 7000 RPM
Max Torque Output

: 9.81 NM @ 5000 RPM
Number of Gears

: 4
Clutch

: Wet, Multi-Plate
Engine Cooling

: Air Cooled
Fuel Supply

: Carburettor
Starting Method

: Electric Starter
Transmission Type

: Manual
Emission Standard

: BS4
Body Dimensions
Fuel Tank Capacity

: 8 Liters
Ground Clearance

: 165 mm
Total Height

: 1085 mm
Total Length

: 2035 mm
Total Width

: 760 mm
Seat Height

: 737 mm
Kerb Weight

: 120 Kg
Wheelbase

: 1305 mm
Brakes, Wheels & Suspensions
Front Brake

: 200 mm Disc
Rear Brake

: 110 mm Drum
Brake Type

: Traditional Braking System
Front Suspension

: Telescopic Suspension with 140 mm Fork Travel
Rear Suspension

: 120 mm Wheel Travel, Nitrox Shock Absorber (Gas filled)
Front Tyre

: 2.75 x 17
Rear Tyre

: 3.00 x 17
Tyre Type

: Tubeless
Wheel Type

: Alloy
Chassis

: Single Down Tube
Speed & Mileage
Mileage (Average)

: 77 km/l (Approx; tested in controlled environment)
Top Speed

: 90 km/h (Tested in controlled environment)
Electronics
Battery

:12 V, 5 Ah MF
Connection Type

: DC
Headlight

: Halogen
Tail Light

: Bulb
Indicators

: Bulb
Features
Engine Kill Switch

: Yes
Handle Type

: Pipe
Fuel Gauge

: Yes, Analogue
Speedometer

: Yes, Analogue
Odometer

: Yes, Analogue
Clock

: Yes
Trip Meter

: Yes
Pass Switch

: Yes
Seat type

: Single Seat
Conclusion
Discover 110 price in Bangladesh is still unmatched if you compare its price to performance. It's a metric that most of the shoppers go by as just the price or the performance can't alone say much of the bike's value proposition. The added styling bits and the safety features of the Bajaj Discover 110 is just the cherry on top.