What is the Seat Height of Bajaj Discover 125 Bike? | Bajaj Official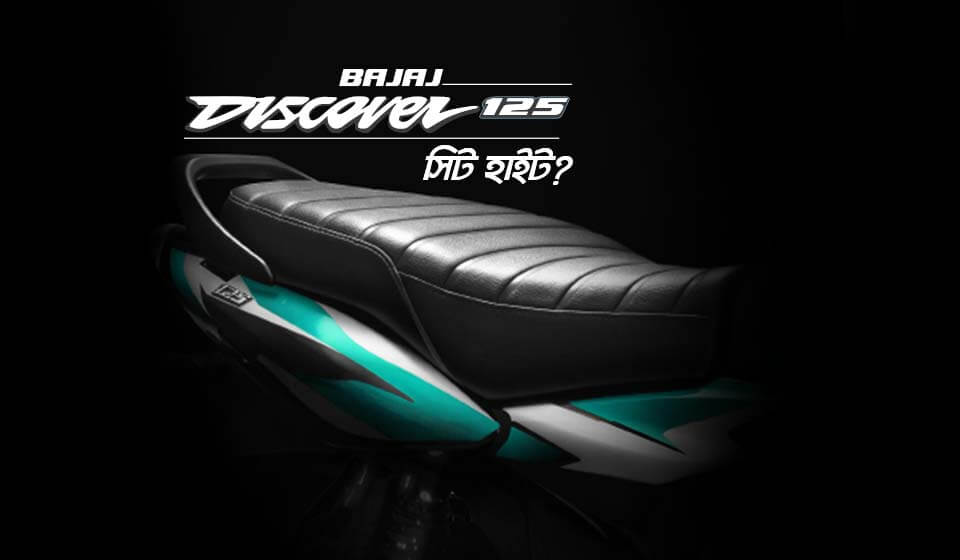 The Bajaj Discover 125 is a very popular bike in the subcontinent. There are reasons behind its popularity. It's an ideal commuter bike. If you love commuters, when you analyze the specs of this bike, you'll see why it's up there with other commuters in terms of its usability. Discover 125 seat height is 805 mm. Question is, how comfortable is it or if it's actually ideal for the subcontinental riders. Let's explore that in this blog.
Bajaj Discover 125- A Little History
The Bajaj Discover line was first introduced by Bajaj Auto back in the year 2004. It's succeeded its predecessor called the Bajaj Wind 125. After the Pulsar, the Discover was the second Bajaj bike to use six-spoke alloys and Bajaj's proprietary "Exhaus-TEC" exhaust system. This system boosts torque at lower RPMs. It also used Bajaj's "DTS-i" Digital Twin Spark Ignition Technology, which is also used on the Bajaj Pulsar 150 and 180 DTS-i.
Key Features
One of the key reason's behind this bike's continuous popularity is its safety features. Bajaj understands the significance of safety. The capacity to stop and the steadiness of a motorcycle are two of the most important safety aspects. None of this has been overlooked by Bajaj.
The bike also includes a feature that reminds you when it's time to shift. If you're a beginner rider, this will be quite beneficial.
The bike's computerized console is another fascinating and useful feature. It's an LCD display panel. Along with performing its duties as routinely as any other digital console, the intelligent service reminder will also notify you when a service is due.
The Bajaj Discover 125 currently goes for 1,53,000 BDT, which is a steal given the feature set you're getting.
Discover 125 Seat Height
Now onto one of the key aspects of the bike- its seat and the seat height. The seat height of the Bajaj Discover 125 is 805 mm. This is sometimes also referred to as "saddle height". Now, why are we talking about it today?
As you may well know, adult men and women in India have an average height of 165 and 152 cm, respectively. However, this can be applied to the whole subcontinent as our biology follows the same footsteps more or less.
If a bike is too tall or too short for us, this creates problems. The more the bike is suited to your height, the more comfortable it is. Turns out, the Bajaj Discover 125's height of 805 mm is ideal for our height. Most of us will find it to be a very comfortable bike. You'll have excellent footing if you, God forbid, get into any trouble despite all the safety features that the bike provides.
Another key aspect of the bike is its quilt stitched unibody seat. The quilted seat will provide you with the necessary comfort during your everyday commute. Your butt will thank you for the seats, I promise. Although the Discover 125 is a commuter bike, you can easily tour with it. One of the most important aspects of touring is a comfortable seat.
If the seat is uncomfortable, your back and your butt will go through a lot of strain. Short journeys may not prove to be a challenge, but you'll definitely feel the strain on long rides. Plus, daily commute may also push you into an injury because of repetitive stress.
Bajaj knows this. Bikes like the Discover 125 is made keeping these very things in mind. Plus the pillion is also a very important consideration.
The seat of Bajaj Discover 125 is long and spacious for even the pillion. That's why this bike is so popular as a ride sharing bike too. Coupled with the excellent mileage, you have a bike that is economical, safe, comfortable and also reliable at the same time. This is a rare combination indeed! But Bajaj cracked the code, and their code gave birth to the bikes like the Discover 125.
Conclusion
The Bajaj Discover 125 seat height makes it somewhat of an all-rounder. It's a commuter class bike, that's is true. But because of all the safety features, coupled with the power that the bike offers is more than enough for most of the Bangladeshi roads. You'll be limited by external factors like road conditions and traffic before you're limited by the bike's capabilities. Discover 125 seat height also adds to that safety factor, albeit a bit passively, but the footing will most definitely come in handy in jam-packed roads like those in Dhaka's busiest areas.