Pulsar Ns 160 Fi Abs Price in Bangladesh, June 2023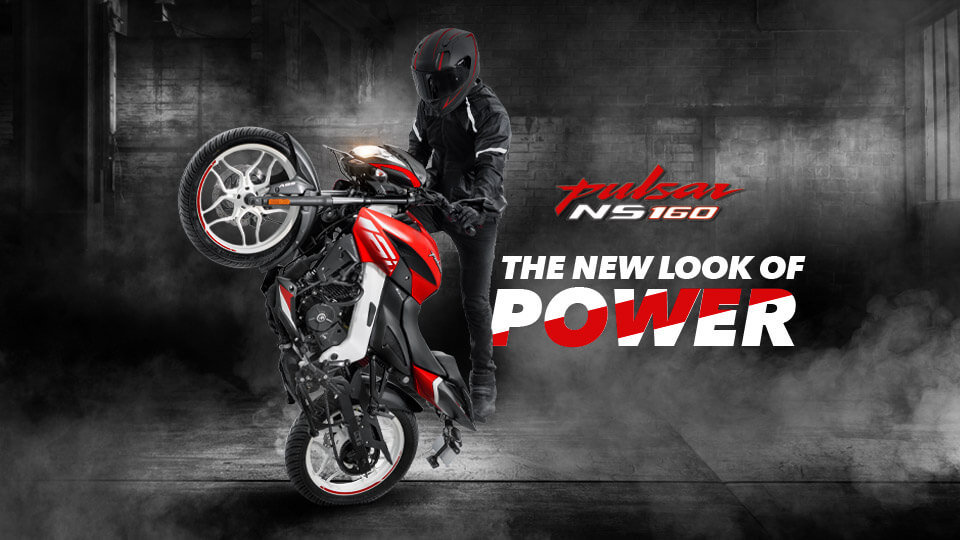 Bajaj first launched the Pulsar NS 160 Twin Disc ABS in June 2017. It immediately became the sweetheart of our young ones and the seniors alike. Pulsar NS 160 Twin Disc ABS price in Bangladesh has directly contributed to this bike's accomplishments. But that's not all. Its feature set is also a big factor here.
The Pulsar series as a whole has seen overall success in the Bangladesh market, and if the numbers are anything to go by, its reach and loyal fans are growing by the day. But still, the fact is that the Pulsar NS 160 Twin Disc ABS is a full-naked sports bike. In this category, the demand is quite limited compared to the other types of bikes, like standard-type bikes. But, as we have seen from the selling figures, the Pulsar NS 160 has got an excellent response from the market.
So, today we're going to talk about the Pulsar NS 160 Twin Disc ABS to help you out with your purchasing decision.
Bajaj Pulsar NS 160 FI ABS Price in Bangladesh, June 2023
Current Price
The current price of the Pulsar NS 160 Fi Twin Disc ABS in Bangladesh is 2,62,500 BDT in June 2023.
EMI Facility
Now let's talk about buying the bike on credit (loan). If you're new to our financing models, great news! You have the option to buy the bike with an EMI facility from City Bank Ltd, Premier Bank Ltd and Eastern Bank Ltd, but you have to check this with your dealer.
Here are some of the key information you should know regarding the financing of your bike-
● You'll get at least 50,000 BDT as a loan
● The minimal down payment is 20% of the bike's price.
● The highest loan term is 36 months, while the smallest loan term is 6 months.
● The current interest rate is 11.99%.
If you consider Pulsar NS160 as an example,
● Your minimum down payment of 20% would be 42,500 BDT. This means you can buy Pulsar NS 160 Twin Disc ABS for 42,500 BDT though its current price is 2,10,000 BDT
● With 20% down payment, your loan amount would be: 1,67,500 BDT
● For 6 months, your EMI will be: BDT 29,590
● For 12 months, your EMI will be: BDT 15,632
● For 18 months, your EMI will be: BDT 10,979
● For 24 months, your EMI will be: BDT 8,653
● For 30 months, your EMI will be: BDT 7,257
● For 36 months, your EMI will be: BDT 6,326
You may also use the EMI calculator on Bajaj's website to organise your budget. Depending on how much credit you have on your bike, you'll receive a better picture of your finances.
Pricing, however, is always subject to vary based on market conditions. As a result, it is preferable to contact Bajaj directly before visiting a dealer.
Where to Buy From
Uttara Motors Ltd. is the leading distributor of Bajaj in Bangladesh. There are many Bajaj dealers available here. As of this writing, there are 312 dealers nationwide in Bangladesh. You can find a store near you using Bajaj Bangladesh's official website. You can contact them directly via your cellphone, or you can also fill in a form on their website, and a representative will get in touch with you.
Why Should You Buy the Pulsar NS 160 Twin Disc ABS?
The Pulsar NS 160 Twin Disc ABS is a beast of the cities. If you ride it responsibly, it will handle the city roads like they are nothing. Since it has split seats, like its bigger 180cc brother, it's very comfortable for the pillion too. So, it's also an ideal ride-sharing bike as well. As for the age demographic, it's needless to say that the looks and the riding condition of this bike make it equally loved by the young and the old alike.
But the bike's actual potential will be realized on the highways. It's as powerful as it is safe, so you'll ABSolutely enjoy the power output that this bike will provide for you.
Bajaj Pulsar NS 160 ABS Key Specifications
Bike Details
| | |
| --- | --- |
| Brand | Bajaj Motors |
| Model | Pulsar NS 160 Twin Disc ABS |
| Category | Naked Sports |
| CC Category | 160 CC |
| Distributor in Bangladesh | Uttara Motors Ltd. |
| Pulsar NS 160 FI ABS Price in Bangladesh (2021) | 2,10,000 BDT |
| Availability | Contact Bajaj customer care |
Engine & Transmission
| | |
| --- | --- |
| Exact Displacement Figure | 160.3 CC |
| Engine Type | Four-stroke, Single cylinder |
| Maximum Power Output | 15.5 PS @ 8500 RPM |
| Maximum Torque Output | 14.6 Nm @ 6500 RPM |
| Number of Gears | 5 |
| Clutch | Wet, Multi-Plate |
| Engine Cooling | Oil-Cooled |
| Fuel Supply | Carburetor |
| Starting Method | Both Kick & Electric |
| Transmission Type | Manual |
Body Dimensions
| | |
| --- | --- |
| Fuel Tank Capacity | 12L (2.4 L reserve) |
| Ground Clearance | 177 mm |
| Total Height | 1060 mm |
| Total Length | 2017 mm |
| Total Width | 803.5 mm |
| Kerb Weight | 148 Kg |
| Wheelbase | 1.372 meter |
Brakes, Wheels & Suspensions
| | |
| --- | --- |
| Front Brake | 260 mm Disc ABS |
| Rear Brake | 230 mm Disc |
| Brake Type | Single Channel ABS |
| Front Suspension | Telescopic Suspension with Anti-friction Bush |
| Rear Suspension | Nitrox Mono Shock Absorber With Canister |
| Front Tyre | 90/90 -17, 49 P |
| Rear Tyre | 120/80-17, 61P |
| Tyre Type | Tubeless |
| Wheel Type | Alloy |
Speed & Mileage
| | |
| --- | --- |
| Mileage (Average) | 38-40 km/l (Approx; test in controlled environment and factory conditions) |
| Top Speed | 127 km/h (Approx; test in controlled environment and factory conditions) |
Electronics
| | |
| --- | --- |
| Battery | 12V, Maintenance Free |
| Connection Type | DC |
| Headlight | 12V, 55W/60W |
| Tail Light | LED |
| Indicators | Bulb |
Features
| | |
| --- | --- |
| Engine Kill Switch | ✓ |
| Handle Type | 3-Part Handle Bar |
| Fuel Gauge | ✓ |
| Speedometer | Digital |
| RPM Meter | Analog |
| Odometer | Digital |
| Pass Switch | ✓ |
| Seat type | Split |
Bajaj Pulsar NS 160 Twin Disc ABS Short Review
The Bajaj Pulsar NS 160 Twin Disc ABS by design is a sports commuter. They are popular because of the power and torque figures that they produce. The NS 160 is no exception. It's one of the most powerful bikes of its class. One of the great features of this bike is that it comes with illuminated switchgear. The Pulsar NS 160 has retained the signature split taillight design of its predecessors. The curves and edges of the bike not only help it to be sleek at high speeds but also look sleek and very aggressive. Due to the design mimicking the aerodynamics of bikes that come with much more powerful engines, the speed at which the NS 160 flies is bound to scare you. There's minimal drag on the body of the bike as a result of the design.
One other noteworthy feature of the bike is its Twin Disc setup. As it's a sports commuter, you'll obviously drive it at high speeds at one time or another. That's why ample braking force is necessary for safety, given that you'll never know when you need it. The twin-disc setup will give you the confidence to drive the bike as it's designed to be driven. The three-part handlebar set-up also adds to the sporty vibe of the bike. You'll feel it as soon as you climb up and touch the bike with your hands for the very first time.
Since it features a split seat, the pillion can sit comfortably in the rear.
Body Dimensions
Length, Width, Height & Wheelbase: The length of the Bajaj Pulsar NS 160 Twin Disc ABS is 2017 mm, and the width is 803.5 mm. The height of the bike is 1060 mm.
The bike has a wheelbase of 1370 mm. Due to the wide wheelbase; the overall control and the cornering of the bike are quite good.
The Bajaj Pulsar NS 160 Twin Disc ABS is a very comfortable bike with a shape that's designed to eliminate the harshness of riding a two-wheel vehicle. It is quite tall, with a high seat height. 177 mm of ground clearance is ample for the roads of Bangladesh. Speed bumps will not be an issue for the bike.
Weight and Fuel Tank
Bajaj Pulsar NS 160 Twin Disc ABS comes with a 12-litre fuel tank. Ample juice for you to be worry-free on the highways of Bangladesh. It'll not get you in trouble even if you forget about the fuel tank's current fuel reading once you fill it up and start riding. It also has a very impressive mileage for its class.
The total carb weight of the bike is 148kg. It's a bit on the heavier side. However, due to this attribute, the bike is very stable at high speeds
Engine & Transmission
Engine: The Bajaj Pulsar NS 160 Twin Disc ABS comes with a 4-stroke, single-cylinder, and 160.3cc engine with DTS-i technology, complying with BSVI emission standards. DTS-i stands for Digital Twin Spark Ignition, a trademark of Bajaj Auto. Bajaj Auto holds an Indian patent for its DTSi technology. The engine is oil-cooled and fed by a carburetor. The engine tops out at an impressive 15.5 PS of power at 8500 RPM. The torque figure tops out at 14.6 Nm at 6500 RPM. Impressive numbers; but then again, this is to be expected as Bajaj has never failed to marry its bikes with a powerful heart.
In case you're wondering, PS stands for Pferdestarke, i.e., German Horsepower. 1 Ps equals 0.98362 Bhp. If you want the engine specs in Bhp form, simple math will do the trick for you. The bike also features a new wider and throaty exhaust muffler.
Transmission & Clutch: The Bajaj Pulsar NS 160 Twin Disc ABS's transmission consists of a 6-speed gearbox, and the clutch is a wet multi-plate system operated by a toe-heel shifter. The bike has an approximate top speed of about 130 kmph.
Suspension, Brakes & Wheels
Suspension: The Bajaj Pulsar NS 160 Twin Disc ABS has a telescopic Suspension with Double Anti-friction Bush on the front. It's ample considering our roads, and the fork has a travel distance of 130 mm. The rear has a Nitrox Mono Shock ABSorber with Canister. The wheel travel distance, in this case, is 120 mm. The rear suspension is also adequate to soak up bumps as well as keep the bike steady at high-speed cornering.
The whole suspension setup here is dependable and will provide comfortable riding, even on very long rides. Pulsars are famous for their best in the class suspension system, and this bike is no different.
Brakes: As the name suggests, this bike comes with a twin-disc setup. The front disc is a 260 mm Disc with Single Channel ABS. The addition of the ABS setup makes the bike miles better and safer than many of its competitors. The rear disc is a 230 mm Disc with a Hydraulic Disc Braking system. Together, they make the braking performance and handling of the bike confidence-inspiring.
Wheels: Both wheels have tubeless tyres. The front one is a 90/90-17, 49 P tyre, and the rear is a 120/80-17, 61 P tyre. These tyres give the bike better performance as well as avoid sudden deflation. Both of the wheels feature 6-spoke alloy wheels.
Mileage
The Bajaj Pulsar NS 160 Twin Disc ABS features an impressive engine. In our controlled test, it regularly hit the 48 km/l range, which is very impressive, given that it's a carburetor-fed engine.
Colour Options
Every colour options for this bike are a dual-tone. Personally, I'd say that the bike looks gorgeous in all of these options. However, you may have a subjective taste for one, it's totally understandable. These are the colour options that are currently available-
1. Burnt Red
2. Satin Blue
Conclusion
The Pulsar NS 160 Twin Disc ABS price in Bangladesh is just the right amount to make it one of the most attractive offerings for our riders. No one can argue with its price to performance or the value proposition. It will satisfy not only your everyday city commute needs but also the intercity commutes. Whether you're going for a long drive out of necessity or for fun, this bike will never fail to bring a smile to your face- it's a promise from Bajaj.